CO2-Counter-Current Column
(Supercritical Fluid Chromatography)
Advantages of a Counter-Current Column Application
By means of scCO₂-column technology, not only dried natural substances, but also liquid essences can be processed and refined further. Within counter-current, liquid extract flows towards compressed CO₂. Flow characteristics and period of contact can be adjusted to requirements, depending on selected parameters. Desired ingredients, like high-grade flavours, can be concentrated, as well as undesirable substances, e.g. colouring agents, removed via this technology. Similar to CO₂-Extraction, it is a process within a closed loop, resulting in only minor losses of valuable substances or CO₂.
Operating Principle
During this process, liquid essence is injected, out of a feeding tank, into counter-current column from the top. Liquid or supercritical CO₂ flows through column from below. Substances, which separate within CO₂ under set conditions, are removed from extract and exit column with it again topside. Column is directly connected with separation tanks, in which extracted substances are collected and can be retrieved from process, when depressurizing. CO₂ on the other hand, re-enters cycle. Ingredients, which can only be extracted with difficulty or not at all under selected conditions, are removed from column bottomside. Various additional installations or filling materials inside column, influence flow characteristics and periods of contact.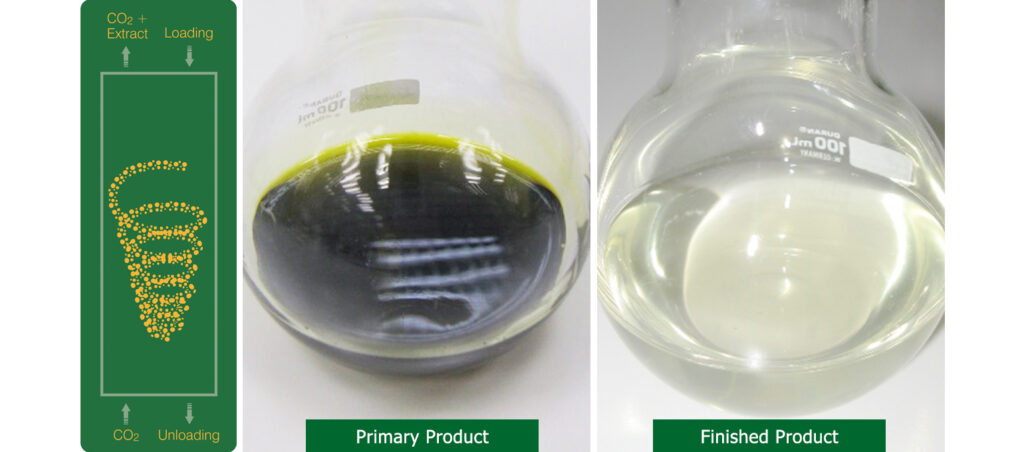 Contact
We are happy to be at your disposal
In case of any questions on NATECO₂, supercritical CO₂-technology and its diverse application options, our team of experts is happy to be at your disposal!
Hopfenveredlung St. Johann GmbH
Auenstraße 18-20
85283 Wolnzach, Germany
NATECO₂ is a brand name of Hopfenveredlung St. Johann GmbH
Phone Central Services
+49 8442 660
Fax Central
Services
+49 8442 6666
email Central
Services
contact@nateco2.de